Cross-country ski trails in the Adirondacks
Move swiftly and silently through snow-covered forests in the Adirondacks and discover the solitude and quiet beauty of a winter landscape that's like no other. Our cross-country ski trails traverse mountain ridges, follow lake shores, snake through valleys and merge with the tracks of deer, fox and the occasional moose.
In winter, Adirondack backcountry hiking trails are transformed into the perfect cross-country ski destinations, traveling through some of the most unspoiled landscape in the northeast. Enjoy a variety of cross-country skiing opportunities — from groomed trails at ski touring centers to the exhilarating descents found in the backcountry.
Cross-country skiing is the perfect introductory sport to a winter backcountry adventure with the relaxation of a Sunday afternoon or the challenge of an Adirondack peak. It's your choice, and there is something here for everyone. If you are a beginner and need a lesson, try out some of our ski centers.
Nordic Ski Centers
Our Nordic centers are a great way to learn a new sport on groomed trails and with a professional at your side. Lapland Lake Nordic Center in Benson, right in the southern corner of Hamilton County, has a 50 km private trail network designed by a former Olympic cross-country skier. Any level of skier can enjoy classic or skate skiing on the center's 38 km of machine-groomed trails. The remaining 12 km are ungroomed trails for snowshoeing and backcountry skiing.
As you get more comfortable, move over to Fern Park Recreation Area in Inlet for more groomed backcountry options. With 20 miles of designated trails for all abilities, enjoy some of the 14 miles of meticulously groomed trails, then test your backcountry skills as you move on to the 6 miles of ungroomed single-track trails.
Beginner Trails
These trails will give you the feel of being in the backcountry as you kick and glide along narrower routes to some of the most rewarding features of the county. A short ski back to Kunjamuk Cave in Speculator along an old woods road is a great place to start. Then a nice visit to John Pond in Indian Lake might be in order. If you find these trails a bit too easy, head on over to some of our intermediate trails.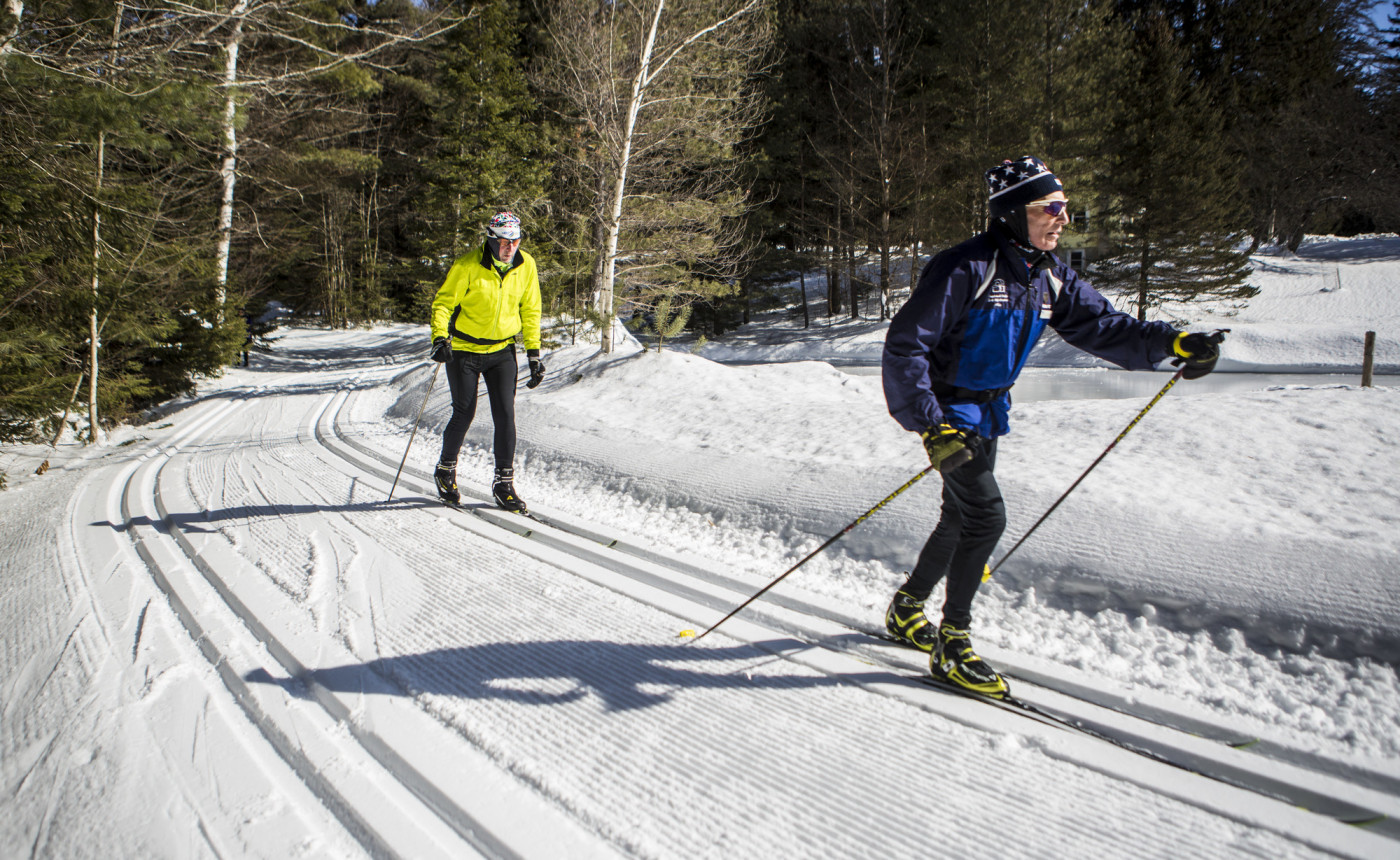 Intermediate Trails
Our intermediate trails will get your heart pumping and the muscles working. An intermediate trail is slightly longer and incorporates some of our rolling hills into the day's adventure. A nice ski along the Sucker Brook Trail or the Rock River Trail in Indian Lake might be just what the doctor ordered. These longer trails will give you an extended outing in the woods with some fun descents and short, trying climbs to get you some experience. If you feel up to the challenge, try out some of our advanced trails.
Advanced Trails
An advanced trail is one where hills are a dime a dozen and some are very long and difficult. Many backcountry skiers will seek out these trails, but in some cases they can be much more than what was anticipated. The key is to have fun and be safe. While this region of the Adirondacks doesn't have numerous advanced-level trails, some have sections of challenging terrain. An advanced trail might be a trail whose distance is much longer than others and would require an extra long day in the woods to reach the designated area, such as the Northville/Placid Trail.
Approach Skiing
Above and beyond the advanced trails are those that are not recommended for just skiing. Approach skiing is the combination of skiing and snowshoeing. Carry your snowshoes on your pack and ski to the base of the mountain, or to as far as you feel comfortable, then put on your snowshoes to finish the adventure. Mountains are the prime candidate for approach skiing. For example Snowy Mountain, Wakley Mountain and Owl's Head Mountain are far too dangerous to ski as a whole, but the initial trail can be skied right up to the point where it becomes way too steep for safe travel on skis.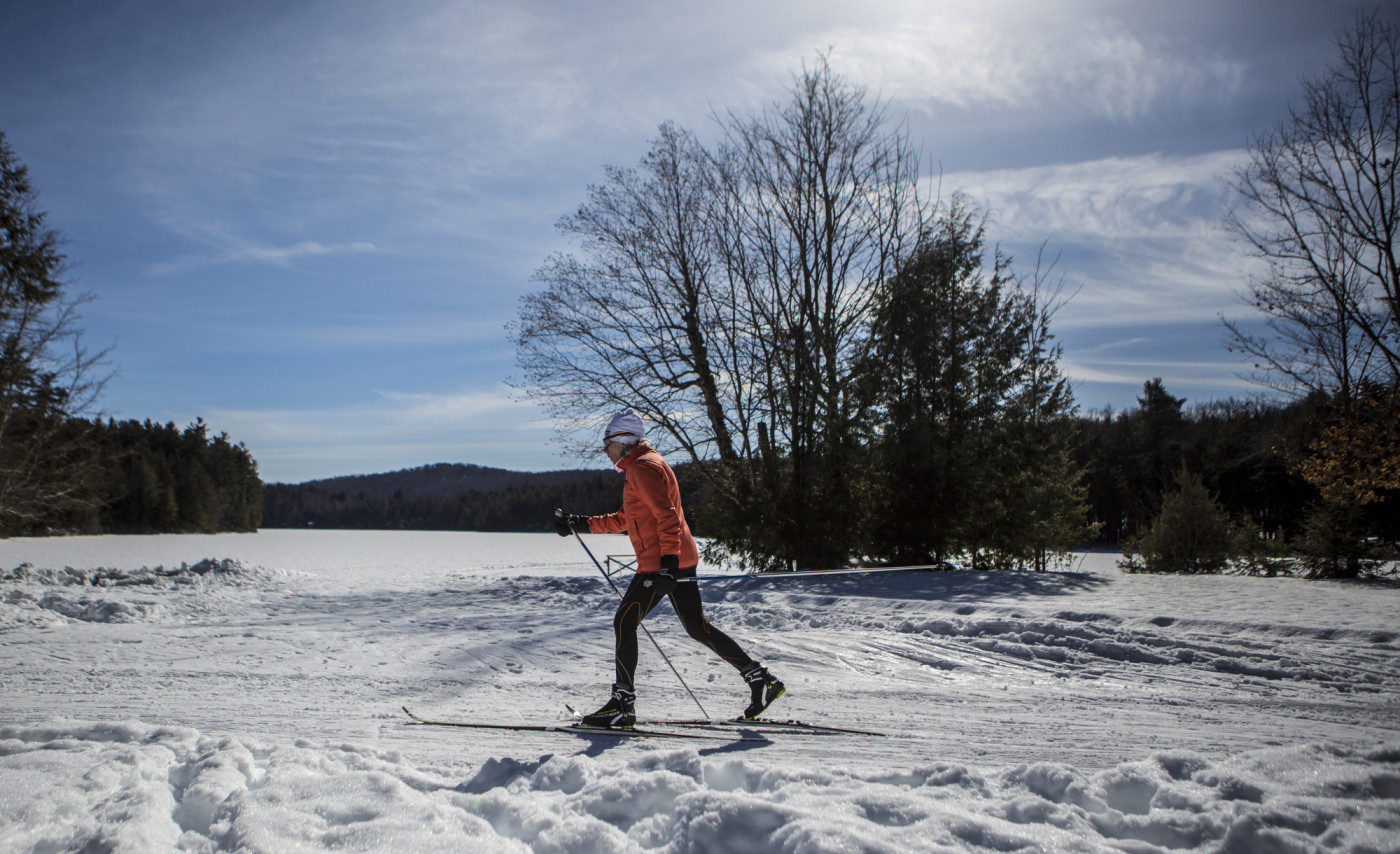 What to know when cross-country skiing in the Adirondacks
It is true that all hiking trails are open for cross-country skiing, but it is important to know which ones are best for you and your skill level. Some trails get less snow cover due to the canopy coverage and forest type. Other trails are way too difficult and dangerous for the average skier. However, many are just the ticket and perfect for beginner skiers all the way to advanced Nordic enthusiasts. There are trails that tend to get much less attention than others and may have unconsolidated snow, requiring the visitor to break-trail for an extended period of time. This makes it challenging and tiring, which are both part of the enjoyment of being in the great outdoors. It's important to have all of the gear you need for your trip and some extra gear just in case. Always play on the side of caution. Winter is fun, but winter can also be a dangerous time of year.
While backcountry skiing keep in mind that some key roads are closed in the winter. Portions of Cedar River Road are closed and transformed into a snowmobile trail, Moose River Road is closed from the Indian Lake and Inlet sides and Perkins Clearing Road is closed from December to May. These roads access many trails and in winter make them inaccessible without an extended approach. Preparedness in mind, cross-country skiing is an excellent way to approach trails with much less effort that snowshoeing.
Cross-country ski gear
Here in the Adirondacks we  want you to have the appropriate gear to do the job. If you need something like cross-country skis, Nordic poles, or a winter jacket, warm hat, gloves, hand warmers, and/or a good pair of ski boots (and don't forget your map and guide book), there are outdoor gear shops with all the stuff you need, even rentals.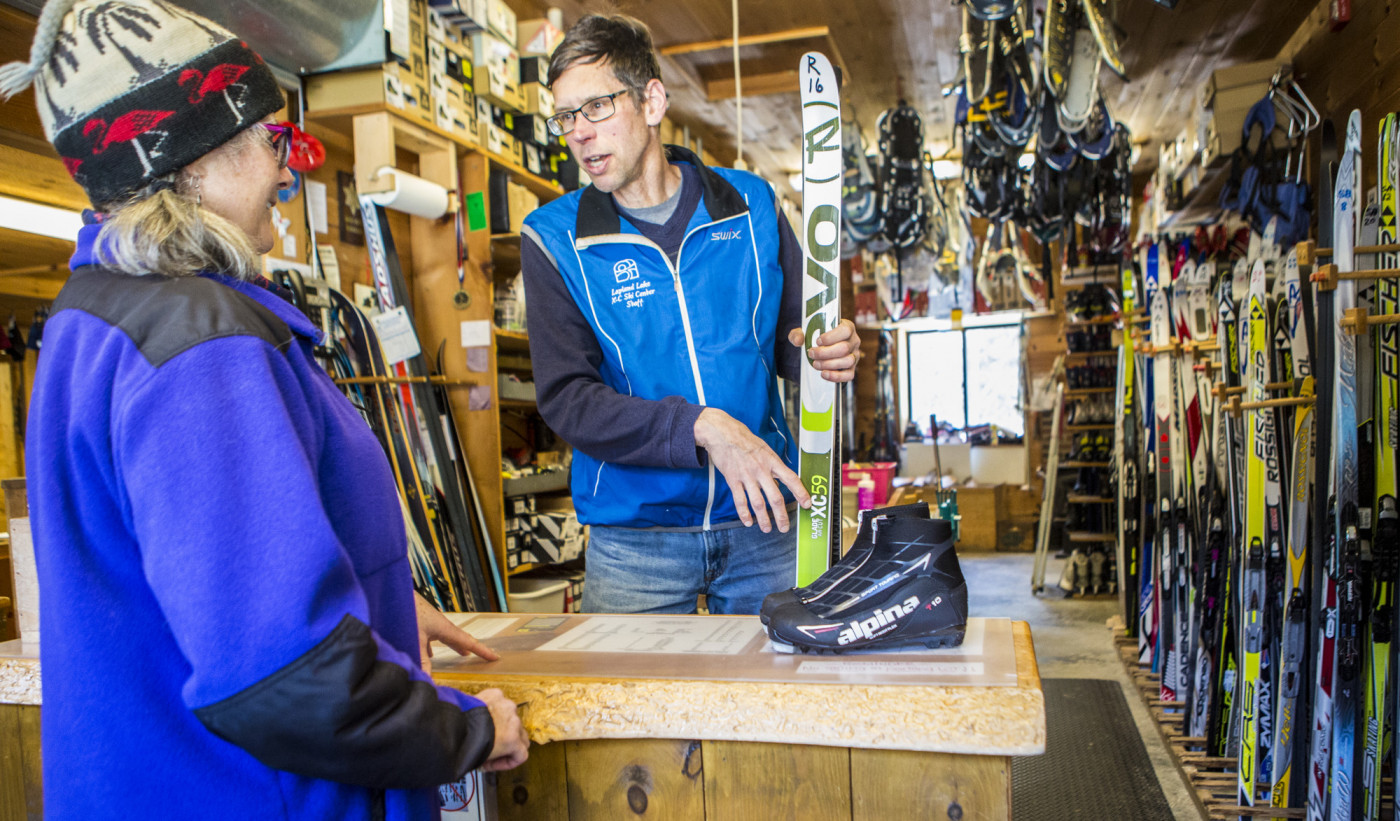 Leave No Trace and Love Your ADK
The magic of the Adirondacks is the result of previous generations taking a long view and protecting the mountains, lakes, and rivers within the Blue Line. That tradition continues today as we support and encourage everyone to practice Leave No Trace ethics, which help protect the lands and waters of the Adirondacks.
In winter, it is especially important to come prepared and practice ways to Love Your ADK; the best way to avoid emergencies is to properly plan and prepare for your trip.