Small Towns, Big Outdoors, and Even Bigger Snow!       
In the heart of the Adirondacks, winter's snows mean one thing: it's time to ride. Home to mile after mile of wooded trail bliss and dotted with welcoming small towns, Hamilton County is your destination for big adventures and ideal riding amenities. Whether you're a life-long sled-head or this is your first winter riding, beautiful snows and family-friendly adventures await.
Go with the snow
What better place to play in the snow than the wilds of the Adirondack Mountains? Hamilton County, which boasts thousands of acres of pristine wild lands, is a snow lover's delight. Even better, it's a region popular with snowmobilers looking for excellent groomed trails amid stunning natural beauty and cozy spots to relax at the end of the trail.
For a winter adventure away from the crowds, accompanied by friends and family, the more than 750 miles of trails here are ideal for fresh winter fun. Maybe you're looking to ride through a snowglobe-worthy forest where birds flit from tree to tree and deer leave tracks, too, or maybe you're into a new adventure of evening riding, when the sunset sets the sparkling snow alight and your headlights lead the way.
Whether you want to ride for a day or make a vacation of it, there are tons of trail options available, from quick jaunts to wide-ranging loop trails that are well-marked and excellently maintained. You'll get the best of everything, including remote scenery you can't see anywhere else — or get to any other way — and small towns that love to welcome riders and provide a warm home away from home.
Adventurers wanted
Fresh snow, pristine nature, groomed trails, and gorgeous scenery. If this sounds like the recipe for the winter adventure you've always dreamed of, join us in exploring all the cool reasons why riding in Hamilton County is so wonderfully exciting. Come celebrate the fun of snowmobiling with us!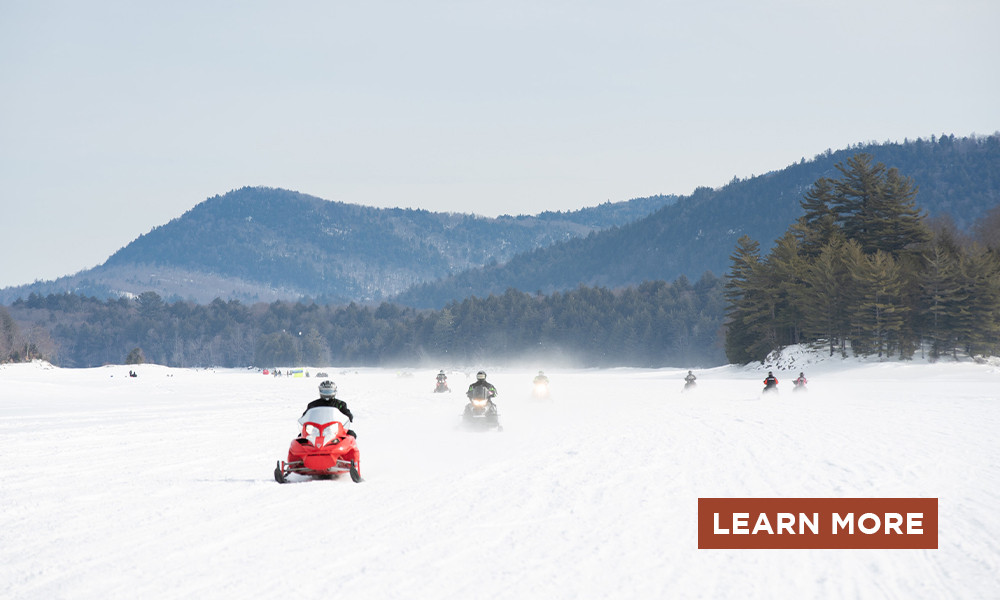 Rider's delight
You've ridden all day, you're blissfully happy, totally hungry, and maybe a little bit tired. Hamilton County and its sweet small towns offer all the comforts and delights you want, with a few special extras, from repair shops to sled rentals. Our small towns are ideal retreats. They are where the pace of life slows down and where big box stores are left behind. Here, you'll find delicious, home-cooked food, unique shops full of art, clothing, and outdoor gear, and sparkling scenery around every corner.
The towns of Inlet and Speculator both offer rentals, so you can pack light and arrive ready to ride. Of course, both towns offer restaurants with hearty fare and warm lodging options, perfect for unwinding after a busy day. Inlet is home to a beautiful, historic inn ideal for riders and so comfy you might not want to head out on the trail! Head north and visit Indian Lake, where groomed and backcountry trails abound near the headwaters of the Hudson River. The town might be small, but you'll find friendly faces, great food, supplies, and a lot of great riding, including on the long stretch of the lake!
Cruise west to Raquette Lake, one of the most historic lakes in the Adirondacks, home to Great Camps and great views. In winter, it's especially peaceful for riders looking to get away from it all, where you'll find yourself surrounded by forest, and hear only the sound of winter birds. That is, until you rev that engine! For riders looking for a bit more excitement, the expanses of Long Lake and lakeside lodging and dining are always enticing to riders, as is Blue Mountain Lake, where winter hiking, snowshoeing, and ice fishing join forces for epic fun.
All this is great, but you also really want to know about the trails, right? Get your smartphone ready, because we have an app for that! Available for iOS and Android, the Adirondacks USA snowmobile app shows you trails and the amenities you want for your next snowy tour. The app can help you plan your trip and find the all-important trailside gas stations and more.

Get ready to ride
To learn more about where to park, fees, trail conditions, and answers to our frequently asked snowmobile questions, please visit our Snowmobile Resources page, then start planning your adventure today! Winter in Hamilton County awaits!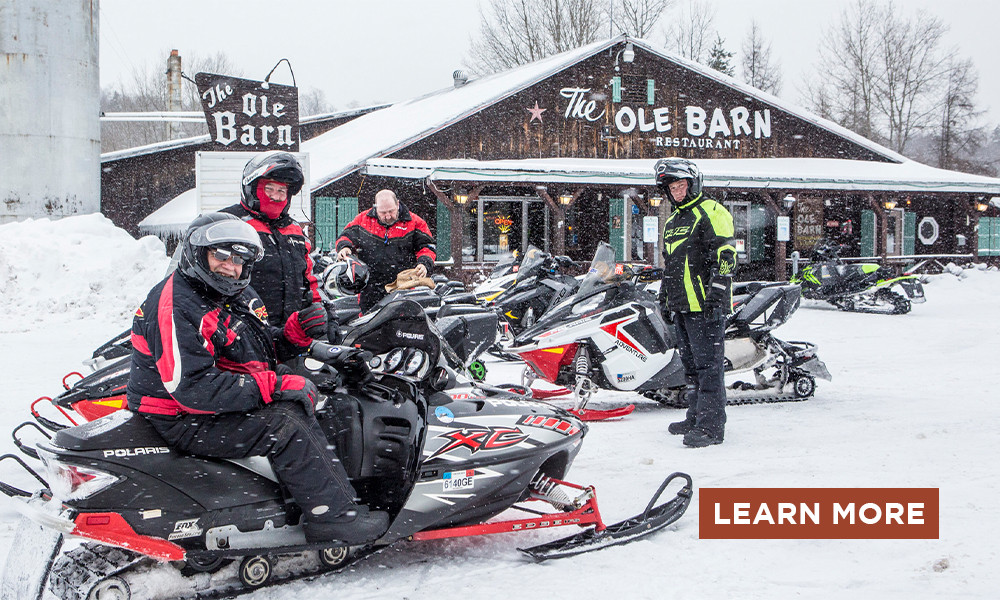 Small towns, big big adventures       
Are you ready for a great season? We are! Hamilton County's family-oriented and rider-friendly towns are full of classic Adirondack charm and hospitality. Stop in for a mid-ride meal or make one of our towns your basecamp for a unique sledding adventure. You'll be in good company!