The snow is gone, there's a warm breeze that has the whole family just itching to get outside, and that awesome camping gear that you got over the holidays is calling to you.
At long last, it's time for some Adirondack camping!
The Adirondacks are filled with all kinds of nooks and crannies that are great for camping. And right here, in the heart of the Adirondacks, there's the perfect place for everyone. From first-time campers to experienced backpackers, we have so many choices that one of them is bound to be the perfect match for you.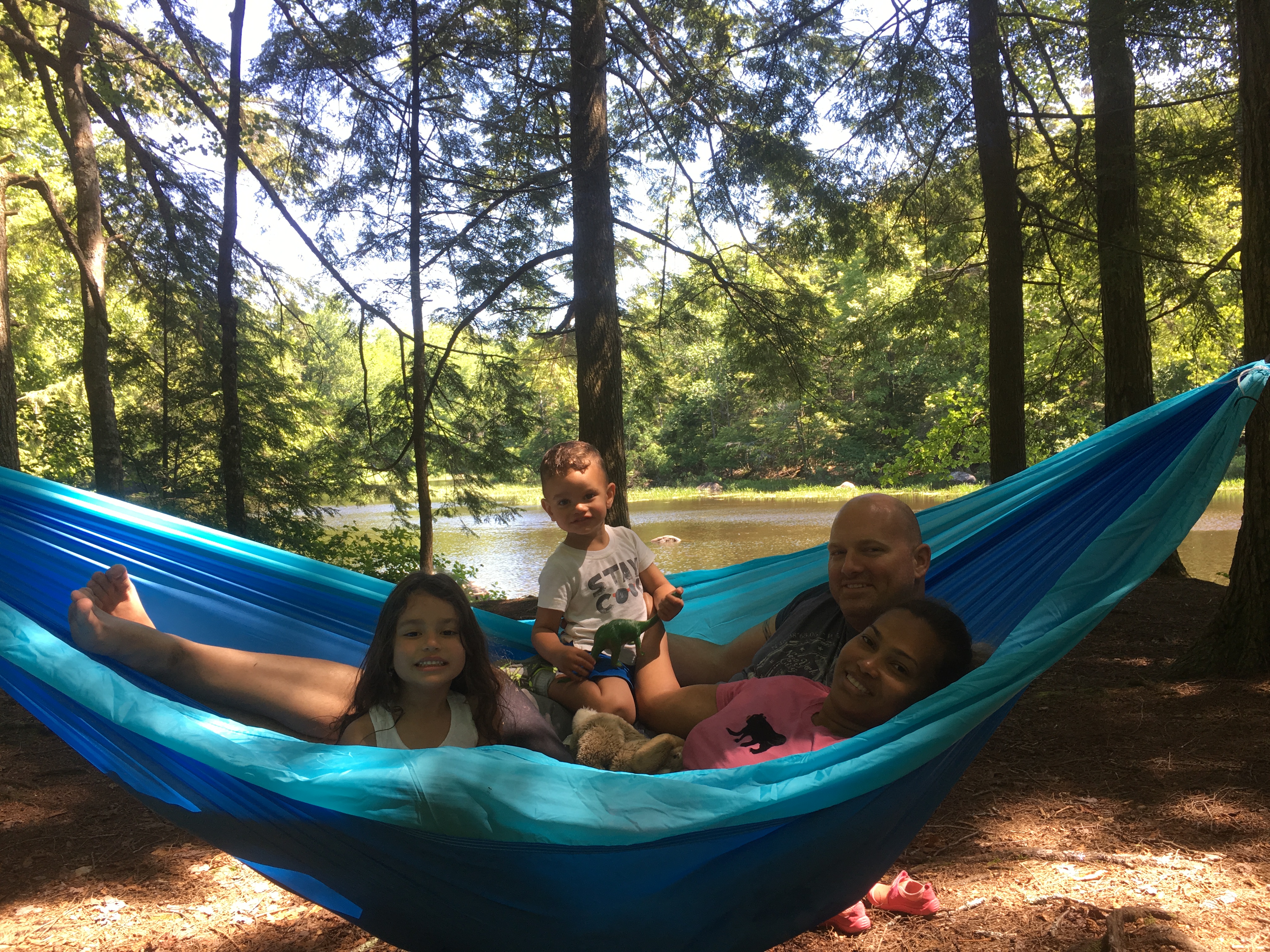 Campgrounds and Camping on the Water
Campgrounds are the logical choice for many campers. Beginning and even first-time campers will find a campground set-up easy to adjust and settle in to without a hitch. Most of our campgrounds are run by New York State and are located close to a variety of outdoor activities. Campsites are scattered throughout each campground with hot showers and bathrooms just a short walk from every site. Many of the campgrounds in our area can accommodate tents, small campers and even RVs. Unfortunately, NYS Department of Environmental Conservation campgrounds do not provide hookups for RVs.
Speculator is home to two great campgrounds: Lewey Lake Campground and Indian Lake Islands.
Lewey Lake has almost 200 campsites to choose from! Each unique site features a fireplace for campfires, a picnic table, and an area for a tent, camper, or RV. Secondary roads meander through shady areas for tents and even lakeside campsites. This network of lanes also leads to a sandy beach and a boat launch for canoes, kayaks, and small motorboats.
Across and up the road from the entrance to Lewey Lake Campground is another, completely different, campground: Indian Lake Islands. (These two lakes are actually connected by water.) A handful of the Lewey Lake campsites are actually across Route 30 on Indian Lake and accessible by road.
Indian Lake Islands campsites are all boat-access only which means, of course, they're all right on the water! If you don't have access to a boat, don't panic; canoe rentals are available right at the campground.
Indian Lake is twelve miles long and has a number of islands with campsites scattered throughout. The lake is fed by the Jessup River and some of the campground's campsites extend to the shores of the Jessup. This campground is the perfect solution if you want to make sure you've got easy access to swimming, boating, fishing or just floating around!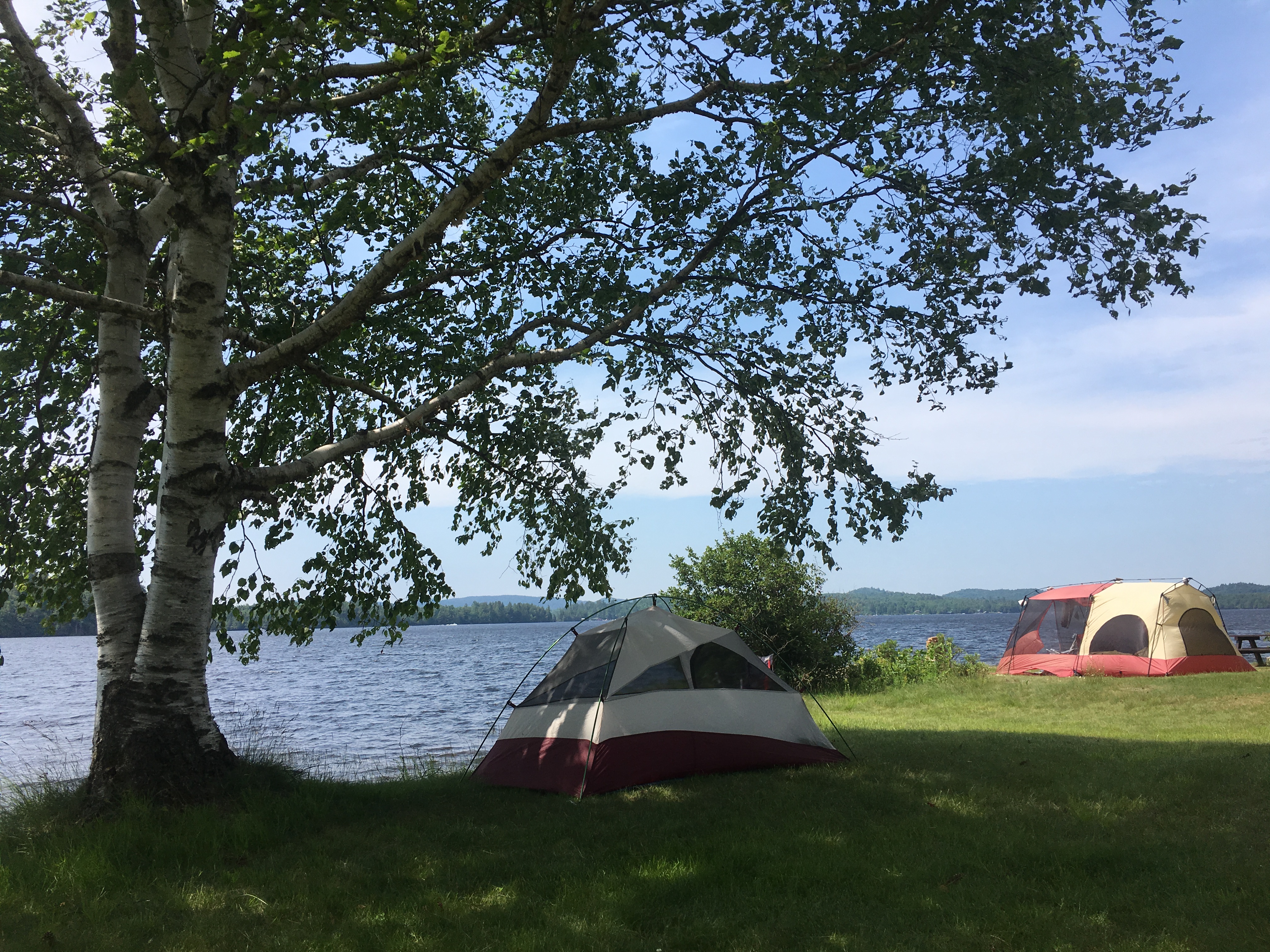 Wilderness Camping
Maybe this camping trip isn't your "first rodeo" - as they say - or maybe you're just ready for a more immersive camping experience. If so, then you should think about taking your family for a wilderness camping adventure and create some memories that will be talked about for years to come. Of course, be sure to check with everyone in your group first because they'll have to be ready for outhouses and no access to hot showers. However, the advantages are huge, including peace and quiet and tranquil settings. Wilderness campsites are usually spread far apart and allow you and your family to truly unwind, relax and simply enjoy being in the forests of the Adirondacks.
These free campsites in wilderness areas are on a first-come, first-served basis and there is no reservation system, so be prepared to make adjustments if the site you stayed in last year is already taken. But many families will tell you stories about meeting people at nearby campsites and then staying friends for years, often planning future camping adventures together.
Long Lake is where you will find the Whitney and Round Lake Wilderness Areas, two hidden gems with fabulous opportunities for wilderness camping. Over 60 designated campsites - some for tents and some lean-tos - are scattered among seven small bodies of water: Little Tupper Lake, Lake Lila, Hardigan Pond, Little Salmon Lake, Round Lake, Rock Pond, and Rock Pond Outlet. The remoteness of camping in these wilderness areas is what makes it so special. Many of these sites are only accessible by water so you might need to pack your gear into a canoe and paddle over to your site!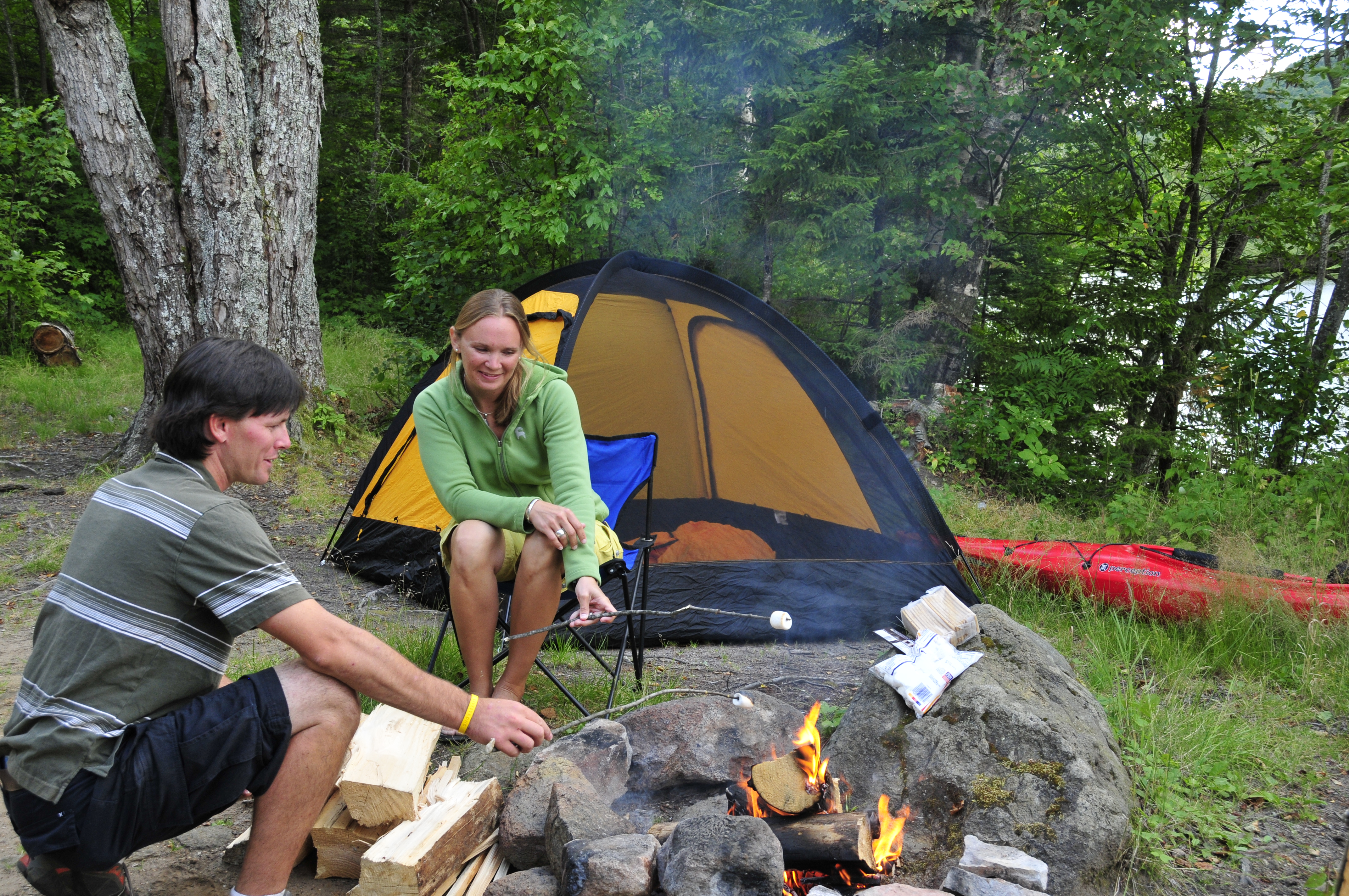 Primitive Camping in Moose River Plains
Nestled between Indian Lake and Inlet is the Moose River Plains Recreation Area. This unique area offers a special camping experience. A seasonal secondary road, Moose River Road, connects the two entrance points, one at the end of Cedar River Road and one off Limekiln Lake Road in Inlet. Along Moose River Road are approximately 140 campsites, easily accessed from the road and all free of charge. Many of these primitive sites have picnic tables, fire rings and outhouses. Some sites are located by streams, some on ponds, and all are blissfully in the middle of nowhere. Families who come to Moose River Plains to camp often return year after year.
Throughout the Moose River Plains complex are numerous hiking trails, biking trails, and tons of streams to splash in and fish. At the Indian Lake entrance there is a group of campsites, including several handicap accessible, at Cedar River Flow. Many of these are right on the flow, a hotspot for fishing.
And winding its way north right through Moose River Plains complex is the Northville-Placid Trail, a 133 mile-long hiking trail that connects Northville and Lake Placid. This trail leads me to another rung in the camping experience ladder: backpacking.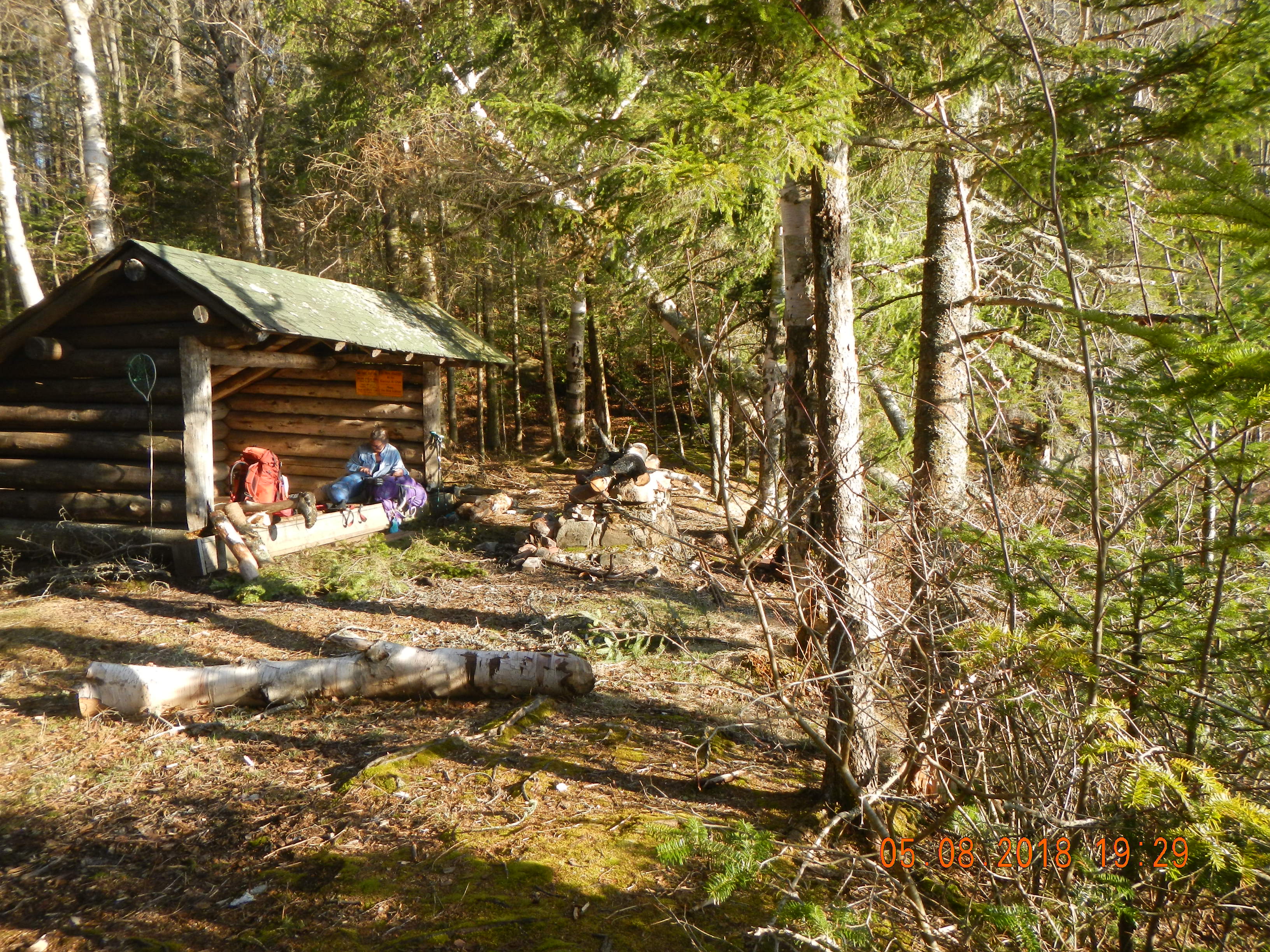 Backpack camping
There's no better way to really get into the back woods, far, far away from everyone, than by packing all your gear into a pack and setting out on the trail. You can choose a destination that's just a few miles away from the trailhead, or you can plan to hike for a few days, setting up camp every night as you work your way to that secluded lean-to or that secret pond-side campsite that you heard about from a friend.
The Northville-Placid Trail may be 133 miles long, but that doesn't mean you have to hike all of it! There are a number of accessible trailheads that can be used as jumping off points for your backpacking adventure.
The village of Piseco has one such access point. From Route 30, you can either head south along the NPT and into the Silver Lake Wilderness or hike north towards the West Canada Lakes Wilderness. Either way, you will encounter wooded trails, Adirondack lean-tos, picturesque waterways and peaceful solitude.
Do your research beforehand, as these are some of the most remote areas in the Adirondacks. A little pre-planning will go a long way on the trail.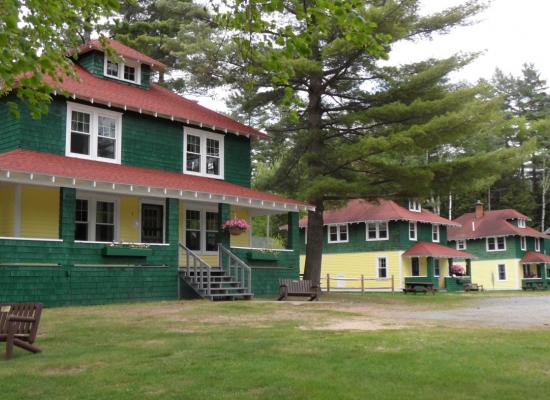 "Cabin" Camping
Some of you may be reading this and thinking, "Yeah…no. Uh uh. Not me. Not ever. That's too much 'outside' for me." But I'm here to tell you that yes, even you can go camping! You just have to expand your definition of "camping" to "cabin camping." After all, the Adirondacks are famous for their over-the-top elaborate Great Camps. (Psst: while you're in the area, be sure to visit Adirondack Experience, the museum on Blue Mountain Lake to get an up close look at Adirondack Great Camps and more!)
Inlet has a wonderful assortment of cabins and cottages that will give you that Adirondack Camp experience without having to sleep under the stars. From ADK Little Cabins to Inlet's own historic Arrowhead Park Cottages, just a hop, skip and a jump from the lake's edge, you're sure to fall in love with lovely little Inlet during your cabin stay.
So come on over to the heart of the Adirondacks where the wilderness is right at your fingertips and adventures await at the next bend in the trail. Start making your family's future memories right here.